I really cannot say enough times that the scanner I use does absolutely NO justice to the actual sketches in my book. I can't make any adjustments to the scanner itself, and lots of my sketch-lines are placed so lightly on the page that they just get lost. Oh well. I doctored these three up as well I could for posting.
I found out about a really cool open figure-drawing session that's not too far away from me, but unfortunately it's during bowling night. Granted I don't really bowl, I am there for moral support and Newcastle, so I decided to kill two birds with one stone and bring along the sketchbook. Problem is, everyone is looking over my shoulder and making comments. Not my ideal scenario when I'm trying to doodle. Next time I'll meander around inconspicuously while hunting targets.


To make the scanning process easier, I went over this page with a darker pencil, a Palomino brand to be specific. It was a gift from someone whose father worked where they made the things, and how I wish I had tried to mooch a few more. The thing draws like butter across the pages of my Moleskin. It's a beautiful thing
A note on the page above, there wasn't anyone
THAT
portly at the alley, I think I was just inspired by a bowling ball. Or maybe she chewed some of that whacky gum from Willy Wonka's chocolate factory.
This bottom page was an attempt to do a charicature of a certain TV person, which I hope will end in a final illustration (10 points if you can manage to guess who it is). I don't feel that charicatures are one of my strong points, which is something I need to remedy and improve upon. Granted I chose someone who doesn't have super-unique-facial-characteristics to emphasize, but the final picture I have painted in my head is funny. I gots ta try.
By attempt #3, I felt like I was finally getting on the right track. I'm really going to keep playing around and do several attempts at a charicature and push until the result is satisfying.
I picked up two new books this week. The first I found at Barnes and Noble, "The Alchemy of Animation", which is a great book breaking down the processes and positions held by people within the animation pipeline. It has sections that go into specific details regarding 3D, 2D, and Stop-Motion.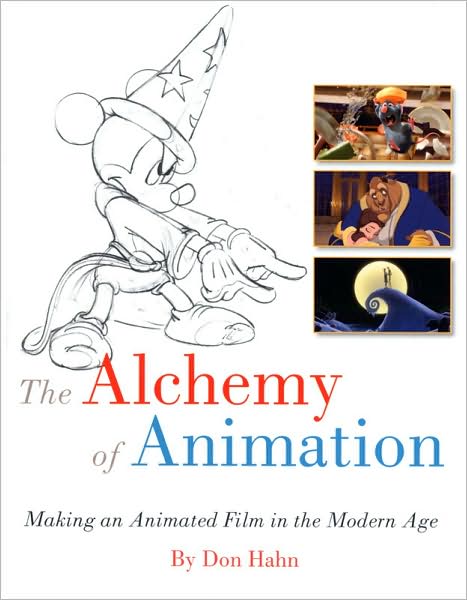 The second book I ordered and am awaiting anxiously at my mailbox. It's Stephen Silver's newest book entitled "Life". The description on the site describes it as: "a book on the subject of drawing from life; how I caricature the model that is in front of me and create a character design based on the drawings." I'm a big fan of Stephen's work, and this is the exact goal I am trying to achieve with my own artwork. I can't wait until I get this.. also because it's supposed to include his signature and an original sketch. :D